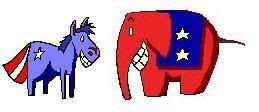 Check it out. Solid job by LisaRenee.

One Two new submitters: One is a Cigar blogger Smoke if You Got 'Em submitted a piece on the Golfing Strippers Scandal in Toledo. I'll put a plug in for more of that. Smoke doesn't do lots of local politics and certainly isn't what you would call a Political Blog, but he ran a story that fits format and sent it in. So again I say: You don't have to be a political blogger to submit and you can submit only occasionally. If you run a post that fits the format, feel free to submit it. We haven't turned down a submission yet.

[On edit] The other is our friend Bonobo at Blue Bexley with some 'Roots News -- an email from Rep. Pat Tiberi's office and a nice essay about it. Quality work. I missed the update from Lisa Renee. Welcome to the Carnival, Bo.

Generally submissions are a little slower than they have been. Not surprising as we approach the dog days. I've always said blogging is a winter sport.