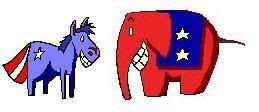 Jill has the latest up. Significant developments: Two Three new bloggers, Columbuser , NEOBabble and King's Right Site. (Jill also counts Into My Own, but OhioDave made his debut in Carnival #72.)(And now suddenly I sound like someone writing a letter into Marvel Comics.)

NEOBabble also marks the first time to my knowledge that a blog affiliated with a mainstream media outlet appears on the Carnival. Yes we are bloggers and by reputation we are supposed to be all in the grille of the MSM and all, but when we say all are welcome, all are welcome. Yes, I'm looking at you, Eric.

EDITED per Jill in comments.