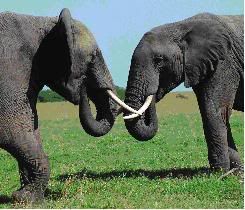 From TeamCoughlin today comes word that Arshinkoff is threatening the owner of Tangier, a.k.a. Vegas Without Slots:

The Chairman of the Summit County Republican Party has threatened to cancel the party's Central Committee organizational meeting at Akron's Tangier restaurant if his rival for the chairmanship is allowed to hold a reception on site.

Alex Arshinkoff called Tangier owner Ed George today, saying he would pull the Central Committee event scheduled for Wednesday March 30 unless George cancelled rival Carol Klinger's reception, scheduled just before the Central Committee meets. George informed Klinger by phone that her event was being cancelled.
The presser goes on to recount Arshinkoff's latest maneuvers. Matt Hurley has reproduced the
entire thing
, as does
New Summit Repubs
. (And yes, Ed George is
her
husband. For whatever reason, the Tangier finds itself as the focal point of many Akron dramas.)
First, the big news -- TeamCoughlin is emailing me again. Not sure to what I owe the honor.
More important -- what it all means. Like their arguments before, this latest example of Arshinkoff's high-handed, manipulative (and we can add "petty" to the list) cuts both ways. On the one hand, plenty of Republicans would like to be done with all this once and for all. It's a reminder to members of the Central Committee of what awaits any who oppose Alex if they are unsuccessful in the effor to unseat him.