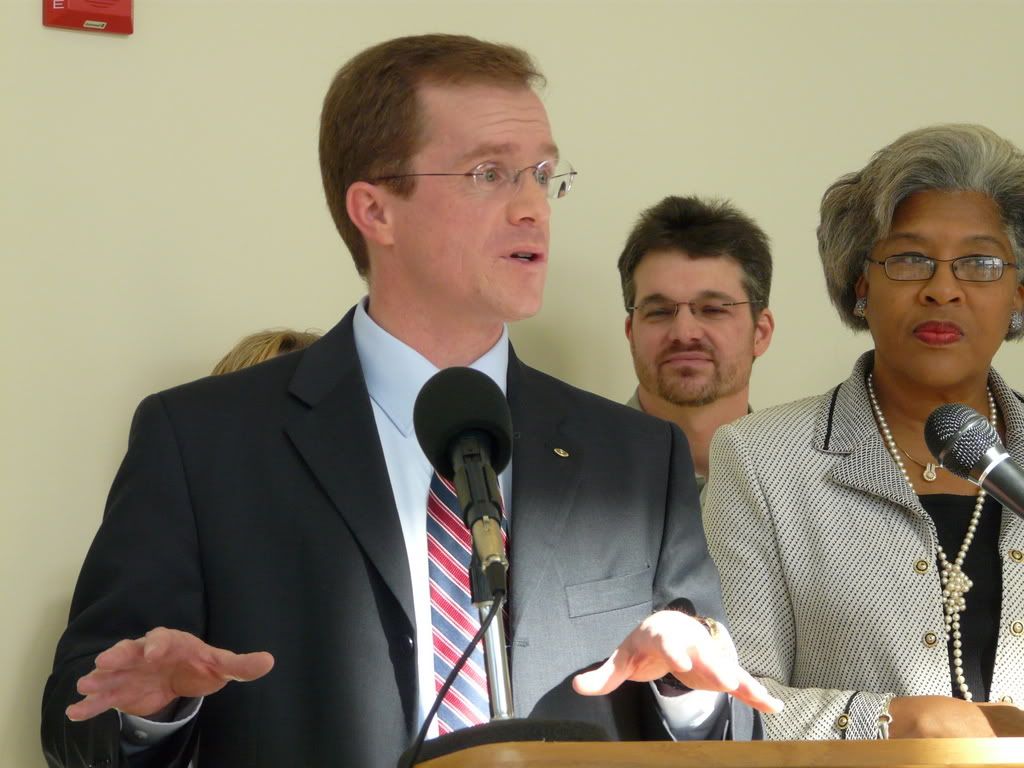 Democratic Hudson City Councilman Mike Moran formally announced his bid for the Ohio House 42nd District in an invitation-only press conference in Cuyahoga Falls today. The 42nd is currently held by Republican John Widowfield who earlier this month badly lost an election for Cuyahoga Falls Clerk of Courts.

As the list of attendees made clear, Democrats are targeting this race to be one of the four pick-ups needed to win control of the House. Moran was introduced by Minority Leader Joyce Beatty (that's the two of them at the podium in the photo). Other Representatives in attendance included Brian Williams (41), Steve Dyer (43) and Matthew Szollosi (49). Also in attendance were Stow Mayor Karen Fritschel, Common Pleas Judge John Quinn, three members of Cuyahoga Falls City Council, and of course, Lisa Zeno Carano, the woman who took the shine off Rep. Widowfield.

Also attending were officials from the House Democratic Caucus, several members of Summit County Progressive Democrats PAC, blogger Jeff Coryell and yours truly. And Moran's wife Barb and their two young daughters.

Mike Moran is an impressive candidate on several levels. First off, when I posted about his race and signed up for email updates on his website, I had a personal email message within two hours thanking me for the post and inviting me to the presser.

Moran is one of those rare finds -- a guy with a gaudy resume and political skills to effectively make the case for himself. He has degrees in civil engineering and law, experience as a big firm lawyer, a sole practitioner and a manager in the legal publishing business. He works the room with barely contained exuberance -- it's not for nothing that his publicity still shows him laughing. He keys it down significantly -- maybe a little too much -- from the podium.

His stump concentrates on core Dem issues: Education, health care, jobs. As the son of a doctor with siblings also in the medical field, health care is clearly his driving passion.

I was most impressed by our conversation afterwards. I asked if he had any specific policy ideas. He said his main focus is on getting past labels -- i.e. pro and con "universal health care" -- and instead study the system to find where improvements can be made.

He may get grief for not "having a position" but I find this refreshing. While he explained this in the context of talking to an insurance executive who spoke to his Rotary club against universal health care, fact is progressives are as bad, if not worse, about this sort of health care orthodoxy. Aside from his fits of clownishness, it may be the trait Kucinich and his supporters share that I find most grating. If a health care proposal offers anything less than a total single payer universal system that wipes out all that came before, the proposal is given labels like "corporatist" and the candidate is accused of riding in the pocket of the insurance companies.

This is bad politics and nuking the entire system to replace it with something new, huge and untried is bad policy. Moran talks about working toward goals -- efficiency, affordability and access. I'll pass up grand schemes and liberal orthodoxy for a hard-working policy nerd working for incremental improvement any day.