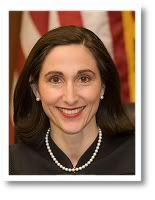 Municipal Court Judge Eve Belfance is running for the seat on the Ninth District Court of Appeals being vacated by Judge Lynn Slaby. Judge Slaby must retire under Ohio law, having reached age 70 during the last term.

Judge Belfance told me she was considering a run when we bumped into one-another recently. Word is now out that she is in and I was trying find an email contact for the campaign to get confirmation -- an odd exercise given that she lives a block away, but . . . Anyway, confirmation came in the form of a fundraiser invite, so safe to say she is in.

Given the recent allegations of Court of Appeals decisions being influenced by party politics and campaign donations, this election should interesting, for a Court of Appeals election. If elected Judge Belfance would be the third Democrat elected in as many tries after years of Republican hegemony on the Court. It is her second try at this level, having run a good but unsuccessful campaign in 2004.

Currently she has a website, judgebelfance.com, set up for her campaign this year for a full Muni term and never fully constructed after it became apparent that she was unopposed. It's unclear whether she will run on that site or get a new url for the Court of Appeals race -- I think she can run as Judge Belfance but it's one of those picky areas in judicial election rules.