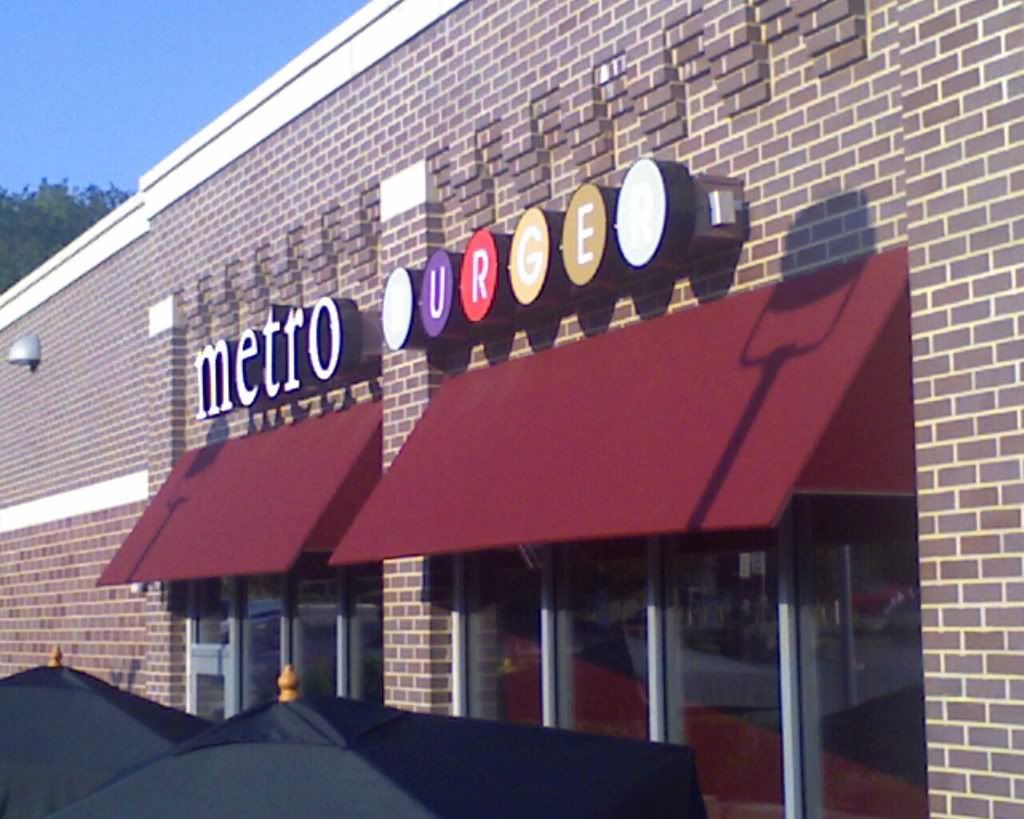 By the time we got back from vacation, the advertised (and previously blogged) Metro Burger was open in Highland Square. Apparently they offered a soft opening over the weekend, and started doing business in earnest Monday. It is, as people noted in comments, a free-standing restaurant owned by the group that owns the Market Street Cafe, a successful sandwich shop in Wallhaven.

Metro serves food for the masses, taken a rung or two up from holes it the wall like Ido's. If they are influenced by a cuisine other than generic burger, it's Southern -- fried dill pickles and sweet potato fries are available as sides. The decor is plain but lively. Walls are painted in bright oranges and yellows. Tables are plain, with plenty of seating indoors and a nice patio buffered from street traffic by the interlacing concrete walls around the main new building.

While the food includes higher-end ingredients, the service is strictly burger. As you walk toward the order window you pass a shelf full of clipboards full of one-page menu/order forms. You can pick from five specialty burgers (including chicken and veggie) or design your own. The child's menu offers but two choices -- grilled cheese or two sliders, both with a choice of fries or homemade tri-color chips.

Like most burger joints with higher aspirations (e.g. the woeful Red Robin), Metro focuses on toppings rather than the meat. When designing your burger you can choose among three buns and eight kinds of cheese. You then get up to four "toppings" with the option of adding extras or going for "premium toppings" for an extra charge. The toppings include the usual fare, and such things as jalepenoes and green onions. Finally you can choose from among fourteen sauces, which really embody the gourmet-ish hopes for the place -- lemon garlic dill aioli, sundried tomato pesto and cucumber wasabi appear alongside the more traditional barbecue and honey mustard.

The patty itself bats about three hundred. Unlike the gray lifeless discs that McDonalds et al have pelted us with for generations, Metro Burgers are nicely seared on the outside. Unfortunately, the burgers are only cooked well done. My one-third pound burger had nary a hint of pink inside. Also, the patties are not seasoned, even on the grill. A burger salted at the table just doesn't compare to one with salt in the meat.

Metro overall seems to suffer from a fear of seasoning. They cook their hand-cut fries to a perfectly golden brown, but again serve them unseasoned, leaving the diner to sprinkle on standard table salt, watch it inevitably fall off and mourn the fry that could have been. The creamy A-1 peppercorn sauce for my burger (served on the side which is a nice touch) had an agreeable, but faint flavor, lacking both salt and acidic bite.

In all, Metro is an asset to the Square. The restaurant serves simple food at a good price, and offers more than the local drive-through. At the same time, the recipes could use a little tweaking.

You can go online to view a pdf of the menu, (link here) though the rest of the site is under construction.

Some friends and I have talked -- but to this point only talked -- about doing some semi-regular restaurant reviews. In hopes that will happen, I open a new label for all things foodie.